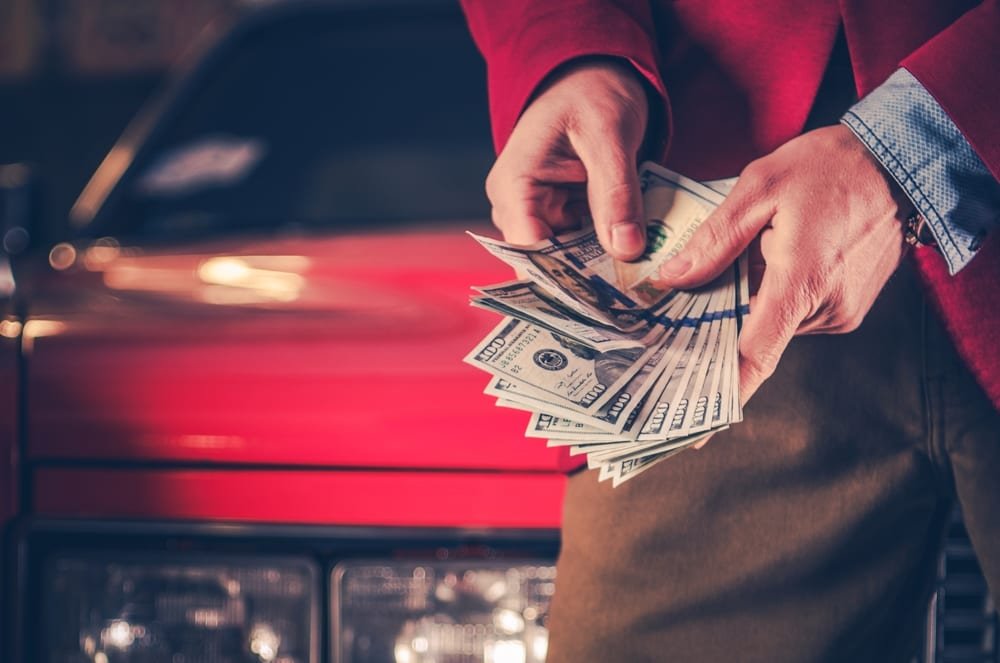 There always comes a time in life when things got tough. In such times, it is possible that the need for some quick extra cash ,maybe you need a title loan? If you happen to find yourself in such situations where needed urgent financial assistance then you should be considering getting title loans, to help you to get the money you need today with a 24-hour title loan from us.
The financial emergency might be; cash to fund and run your business, money for you rent, urgent medical bills, funds for a holiday trip with your family, quick cash to clear your utility bills, money for a necessary gadget maintenance, or any other circumstances that catch you off-guard when you are low on cash.
Provided the need demands urgent financial attention, then getting title loans for some fast money might just be your best option.
Finding The Best Title Loans
You'll realize that when life's pressure strikes, it's often difficult to think with a clear head. Coming up with a way to raise that extra cash would also be difficult at such times too. It can be a bit challenging to calmly weigh your options and come to a conclusion on where to raise that extra cash. That is is where you will find this article from TFC Title Loans very helpful.
While a title loan might be helpful in times of urgent cash needs, what is more, important is to get the best title loans. As you read on, you will find out all you need to know about a title loan, how it works, and how you can get the best one wherever you are.
There is a wide range of title loan programs and services out there offered by several title loan companies, however, whichever title loan lender you choose is what will determine the quality of title loan service you will get.
Before you even decide to pick out one out of the numerous title loan lenders in the US, you have to look out for some pointers. To choose the best title loans financing organization, you need to consider three things;
Policy flexibility
Rates
Reviews form other clients
 Title Loans Versus Other Financing Options
Getting financial aid from traditional lenders is too stressful and quite complex because these financial institutes expect so much from you. They expect you to bring collateral that is worth more than the loan amount you want to collect, present buoyant co-signers to help you get the loan, or have a great crtedit score.
These things are important. But the truth is when you are faced with a situation, an emergency that demands quick cash response, and that must be treated with urgency, obtaining these conditions become tiresome.
While getting a loan from traditional lenders like banks and credit unions is almost impossible because of the too many complicated paperwork involved,  title loans are easier to get.
It's stress-free
It's quick
It requires only some basic documents
With bad credit, it is almost impossible to get a cash advance from banks. The approval takes several weeks, and the loan period and rate make the repayment even more difficult.
There are also other ways you could get the funds you need; like payday loans and pawnshops, but the shortcomings of these funding options that give car title loans the edge, which makes getting title loans the best option.
With a title loan, you get a flexible loan contract term that will work perfectly with your budget and fit into your financial plans.
How Do Title Loans work?
Uncertainties are embedded into the very fabrics of life, and unexpected expenses are something no one can escape. Do not worry about the financial challenges when it hits you, just understand how title loans work.
Now, let's take a closer look at title loans and how they work. We will expose you to some very vital details you need to know about title loans and also how the title loan process works.
Just like a typical collateral loan which involves surrendering an asset in exchange for the loan cash, are title loans. Though a title loan works a little bit differently. Title loans, also known as a pink slip loan gives you the opportunity to get access to fast money using your car or vehicle title as collateral.
Instead of giving up your car, you simply give up the document that shows your true ownership of your car in exchange for the quick loan, and you continue to drive your car as you always have, we use the equity you have in your car.
The only way you will collect back your pink slip and retain the ownership of your car is when you repay the title loan completely. So the way a title loans works, you need to fulfill three stipulations for you to qualify to get a title loan;
Own a car or have enough equity in the car
Have available the title or pink slip of your car
Have a source of income that will support the title loan payment
Getting title loans ars easy, you can also get a motorcycle title loan from us. All you have to do is;
Apply: You can apply via any of the options made available that is most convenient for you. You can choose to apply through the online platform, manually at our partner physical offices or over the phone when you give us a call. When you apply, you will provide us with your details. Don't worry, your personal information is secured with us.
Bring along the title loan requirements: This is the documentation stage where you have to provide documents to facilitate getting the title loan. A few minutes after applying, you'll get a call from one of our representatives, guiding you through the documentation process and to the time when you get your cash.
Get a title loans approval: here, you are given the go-ahead to proceed with the rest of the process. An approval means you are eligible for the title loan, and that you have satisfied the requirements.
Bring your car or vehicle for inspection: This is when your car will be assessed to know if it is in sound working condition or damaged in any way.
Receive your cash: Once you have applied and qualified, and the value of your car is reached, then the cash amount you are to get will be determined. You, however, need to pin down your signature on the contract agreement, agreeing to the title loan terms before you will collect your cash.
There are also several other reasons why getting title loans is more beneficial, and an in-depth understanding of how title loans work is one vital step in identifying the best car title loan company and getting the best title loan them.
Before we proceed to give you some vital tips on how you can get the best title loans wherever you are in the US, lets first have a closer look at what the requirements for getting a title loan are.
Check List For Title Loans Lenders
Check reviews and investigate the reputation of the title loan lender: Due to the nature of this form of loan business, there are quite a number of lending firms that provide title loans services. Before you can pick out the best, you have to be sure of the quality of the title loan service that is offered.
TFC Title Loans, with about 24 years' experience in the title loans market, has been providing the best quality title loans programs across several states.
Find out how fast you can apply and how quickly you can get approved: it is a fact that title loans were designed for emergency cash. That means that ideally, it ought to take very little time to get your application processed. However, how fast and easy a title loan application differs from one title loan lender to another.
With us, the process is quick and void of unnecessary paperwork. We ensure that our requirements are completely basic and easy to get, and we can approve your title loan application within minutes of applying.
Our concern is that when it's time to comply with the title loan repayment, you can comfortably handle it. so if we are convinced that you can take care of the title loan repayment, we will get you the quick cash without delay. The entire process of applying and getting the title loan amount will not last more than 1 business day.
Check if the title loan contract terms and your financial plans are in agreement: Whatever title loan package you are taking must not leave you in the worst financial situation than you started. The best title loan will definitely fit perfectly into your financial plans. If the interest rate, payment amount or title loan duration puts you in an uncomfortable spot, then that title loan is not the best for you.
We will give you the highest title loan amount off the value of your car, at a low and competitive interest rate over a longer period. The best you can get anywhere!
How will the title loan policy affect you? Title loan policies are not the same with all title loan lenders. This is why you have to be sure of how the policy of your chosen lender will affect you. You wouldn't want to make a choice and then regret later when you discover that the policy is negatively impacting your finances.
For example, some title loans are strict on the model or mileage of the cars they accept, while some others will charge you application fees or penalize you for making a prepayment. Some other companies will attach a GPS tracking device to your car to know your every whereabouts.
The best title loans will not charge you anything for completing your payments early, ask for an extra set of keys from you or put a tracking device in your car, and that is the kind of title loan that we give you – the best! Though we check your credit, this is only to know your financial backup in terms of repayment and not condition for getting you the cash advance.
What will it cost you? This is where you weigh the pros and cons. Two important questions you should ask at this point are;
What will I gain if I take out this title loan?
How bad can it be if things go sideways?
We will work with you to make sure that repayment isn't a challenge. We will even encourage you to make more payments monthly by rounding up payments so you can pay off the title loan quicker, you can also go to our title loan calculator page, and see what it will cost you.
Title Loans Advance Rate
Find out how your car is valued and how your title loan amount is determined: Your title loan amount depends on the value of your car. This is another reason why you have to be mindful of lending companies that promise to give you a title loan with no car inspection. You need to know the tools the lender will be used to appraise your car and also how the title loan amount you will get is estimated.
With Kelley Blue Book, we will evaluate your car to find out its accurate current worth and with our car title loan calculator, you can also find out how your payments will look like and at what interest rate. We will also run your credit with Experian to determine which loan will suit your financial strength.
What the title loan amount and duration will be: since your car is one item you need before you are qualified for title loans, you need to have an idea of how much the car will qualify you to get. Some lenders offer only 50% of the car's value, some others offer a low and fixed amount irrespective of the car you have, all for you to pay back completely in a short time. The best car title loan qualifies you for more cash off the value in your car.
We will offer you as much as 85% of the KBB value of your car and you are permitted to pay back the loan over a period of 24 to 36 months. We offer you more cash than any other title loan company, and this is another reason why we stand out as the best.
Find out how you can get your car title back: Usually, you have the legal right to collect back your pink slip once you have cleared your payments. However, some lenders have another long documentation process just for this purpose.
What You Will Need To Get A Title Loans Approval 
Now, here are some of the requirements and documents we will need from you if you want to get title loans from us.
Your personal information: When you apply for a title loan with us, this is the first thing that is needed. Whether you are coming to our partner office location near you or applying online with the application form on our website, we will need you to provide us with your name, address, phone number, e-mail, and other basic information. These details will be used for record purposes so that we can serve you efficiently and better.
Your car and the clear or salvage title of your car: These are the two basic title loan requirements that first determines if you qualify for a car title loan or not. Your car is not the collateral here, but your car title is. It is important that the car you are presenting is roadworthy and not physically damaged due to accidents. If you only have equity in the car, then the equity has to be enough to qualify you.
We will briefly inspect your car to check its condition and also validate your car title to ensure that it is clearly in your name, then we will withhold your car title and give you the title loan amount you qualify to get.
Proof of your residency: According to the legislation that governs the title loan business, you are only permitted to get a title loan from your state of residence. We will get you a title loan that is near to where you live.
Since we are in several states of the US, we simply want to see a document from you that proves that you actually live in the state you are approaching us from. Documents like your utility bill receipt, account statement from your bank, or any lease receipt indicating your name and current location.
Proof of your income: Before we give you the cash title loan advance off the value in your car, we want to be certain that all things being equal, you wouldn't face any challenges repaying the title loan amount plus interest. When you come to us, we want to help you gain back your financial confidence and not leave you with more debts.
This is why we choose to have a glimpse at your monthly earnings. It could be your salary if you are employed, or benefits if you are unemployed. Anything that will prove your capability to repay the title loan is fine. Your income is not the only criterion we look at when you come to us for financial help, but it is one important item that assures us of your repayment credibility.
Pictures your car or vehicle: We need pictures of your car as part of the inspection process to check the general body condition of the car you are presenting, and also for record purposes. We expect the photos to be detailed, showing both the exterior and the interior condition of the car, including the mileage on the car. This requirement is very important since it guides us in reaching how much value is in your car and how much title loan amount you can get.
A means of identification: This could be a driver's license, an international passport, a military ID or any form of identification that is valid and recognized by the state you are applying from. We would need to see your ID to validate some of the information, like; your name, age, and address that you have provided earlier.
Details of at least two references: In addition, we will require that you make available some references and their details. You will provide us with the names and contact details of these references. The references are there for two simple reasons; to confirm your identity and to aid you in case your title loan repayment plans go sideways due to unforeseen circumstances.
Provided you are 18 years of age and above, own a car, have a clear title in your name, have an income source to support the title loan and can make available the above title loans requirements, you can the best title loans from us.
You don't have to be employed, no need for perfect credit, with our EZ  title loans, you can get funded, provided you qualify. Our title loan representatives are available to make sure that you have the best experience and enjoy the maximum benefits that come with getting your title loan application from us.
You can look here for more information on title loans.