If you have an immediate need for a large sum of money, you might face the very scary prospect of being without options. Consider title loans as a solution.
Most of us don't have wealthy family members to turn to or investments we can sell for these emergency funds we must have.
 Title Loans
This is when people turn to title loans. As long as you own a vehicle, you have the opportunity to borrow the money you need.
Our title loans are here to assist any individual experiencing financial hardship. We work with bad credit scores as we provide bad credit collateral loans. We provide same-day funding!
How Do Car Title Loans Work?
Before we jump into the specifics of a title loan, let's begin by looking at its simplest definition.
Title loans are when someone borrows money and uses their vehicle's title as equity. In doing so, they agree to the lender puts a lien on their car's title.
They also hand over the physical title in exchange for the money.
When the borrower pays back the loan, they receive their title back. However, if they default, the lender has the option to sell the vehicle in order to recoup their investment.
That collateral is why a borrower's credit score doesn't really factor into the agreement.
Car Title loan Info
The score won't impact the terms because they're based almost entirely on the value of the vehicle. A lender would never offer more than the amount they could receive from selling the car.
This type of loan usually comes with higher interest rates to borrow money, though, as many of the people who apply for them have poor credit histories.
You may have also heard of them referred to as title pawn loans. That's because, traditionally, pawn shops would take people's vehicles as collateral in exchange for a cash loan.
Once again, there will be a credit check as the cost of the loan would depend entirely on the value of the vehicle.
Before applying for a loan, find out how a lender like TFC Title Loans will value your vehicle. Ideally, they should be referencing an objective third-party like Kelley Blue Book at https://www.kbb.com/.
 Vehicle For Car Title Loans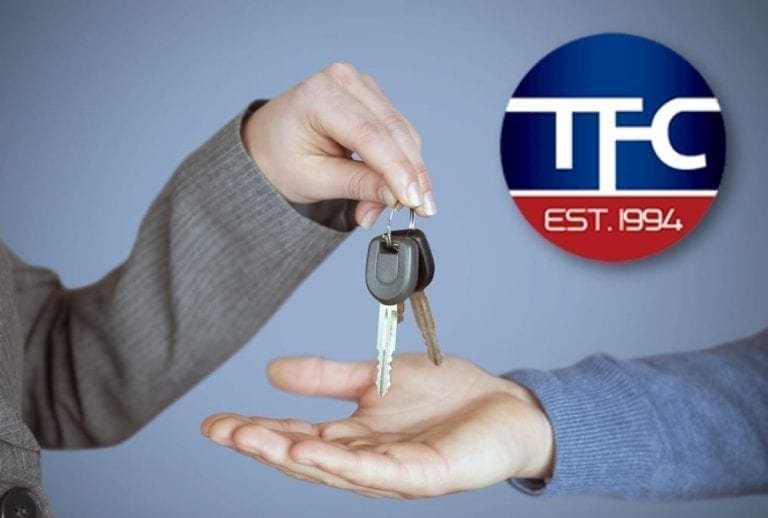 It's important to remember that title loans don't keep you from using your vehicle. You're only handing over the title – not the vehicle itself.
So, you can continue using it as you normally would – literally nothing changes in that regard. No one has to know that you're using your vehicle as collateral for a loan, either.
Different Types of Title Loans
There are three types of loans that can be secured by using the title of a vehicle. Learning how title loans work is important before applying. While these types of loans essentially function the same, there are some unique aspects among them worth exploring.
1. Car
The traditional auto title loan is the most popular version, which we've already covered in detail. As long as the vehicle owner has paid off their car (or has nearly done so), they can use their title to secure a loan.
2. RV
RV title loans work like title loans, except that you can generally receive substantially more for the former.
Other than that, the process for securing an RV title loan (which we'll cover momentarily) is almost completely the same. The inspection process is a little different but only because these large vehicles have a lot more to inspect.
3. Commercial Trucks
They're also rather popular among those who either own trucking companies and wish to expand or own their own big rig truck and wish to start a company
In either case, they're sitting on a substantial amount of collateral that they can use to secure large sums of money in order to fund their business ventures. 
Qualify For Car Title Loans
If you're having trouble finding a title loan lender near you, just use this list to determine if your state is eligible for a title loan. Title loans are legal in the following states: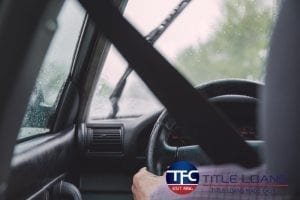 The laws governing these loans differ slightly by state, though.
For example, in Idaho, loan terms can't be for longer than 30 days.  Whereas, in Texas, the repayment period can last for 180 days.
Steps to Get a Car Title Loan
Fill Out Car Title Loan Application
As with any loan, you'll start this process by filling out an application. Nowadays, most lenders will allow you to do this online, over the phone, or through a customer-support portal on their website.
In either case, this initial step is a simple one. You'll only need to give some general information regarding the amount you wish to borrow and what kind of vehicle you have.
At this point, the lender just wants to do some preliminary work to ensure their services will be a good fit for your needs.
Complete the Required  Car Title loan Paperwork
After submitting your application, you can usually expect to hear from the lender within a few days. Since TFC offers title loans online, you can expect someone to contact you as soon as the same day!
If it appears they'll be able to help, they're going to ask you for some basic documentation to confirm the required information, so they can finalize the loan.
Documents For Car Title Loans
Have these documents ready beforehand and you'll be looking at a very short origination process. It could actually take less than an hour.
If one lender rejects you, having these documents ready will also make it much easier to simply move on to the next.
Here are the documents you need:
6 references, one of which is a family member

Driver's license

Pictures of the vehicle

Proof of insurance

Proof of monthly income

Proof of residency

The title
You can replace the title or get a new driver's license if you're missing either, but again, do this beforehand to keep the process short.
Finalize the Car Title Loan
The next step is to finalize the terms and conditions of the loan. This will include:
How much the loan is for

How much the interest will be for

When the loan must be paid back

Penalties for late payments
Make sure you check the fine print carefully. Specifically, you want to avoid any loans that come with prepayment penalties. In short, this would mean you'd actually have to pay a penalty for repaying your loan early.
Have Your Vehicle Inspected
Finally, all you need to do is have your vehicle inspected so the lender can confirm that everything matches up with the information you provided in the second step. Using the equity of your vehicle for a loan is what determines it's value.
Your lender should have nearby locations you can visit for this inspection. It generally only takes a few minutes, too.
Get Your Money
That's it!
Just sign on the dotted line, hand over your car's title, and drive away with your money.
Can TFC Title Loans Help?
Hopefully, you found the above information about title loans helpful. Perhaps, you've even decided it's a good fit for your needs.
If so, TFC Loans can help. We've been doing so since 1994. Feel free to contact us today and we'll begin the application process, so you get that money ASAP.
For more information on car title loans, please look here.