Have you ever asked the question "what happens when I use my car as collateral for a loan?" You may have asked this question because you need emergency funding. These days it is impossible to find funding when you need it unless you have a perfect credit score. If you don't have a great credit score, it can be an endless cycle of fear that you won't be able to pay the bills on time. Here we have a solution for you! We can get you the emergency funding that you so desperately need with checking your credit score. We can do this by lending you a secured loan that uses your car as collateral. Learn more about how to "use my car as collateral"? We will also help you find the best title loan that is closest to you.
What happens when I use my car as collateral?
Ever since we opened our doors in 1994, TFC Title Loans have worked very hard to help those who are turned away by traditional lending institutions. Additionally, we make it a priority to help you understand how the car title loan process works so that you can always make informed decisions that lead to a brighter financial future for both you and your family! We care deeply about customer service and consumer education. Therefore, we have been expanding our website to include numerous resource pages that answer your questions.
For 25 years now, we have striven to create a company culture of open communication between us and our customers. With our second-to-none customer service, we have drawn thousands upon thousands of people to obtain title loans through our lending company over all others. In this informational article, we lay out exactly what happens when you use your car as collateral for a loan. So, if you wish to understand the process better, then please continue reading. However, if you already feel ready to get started in the application process, then fill out our online application or give us a call today! For more information on how "use my car as collateral", ready below…
Use My Car As Collateral
The more traditional lending institutions don't lend to those with less-than-perfect credit scores because those individuals are labeled as high-risk borrowers. These lenders only give borrowers unsecured loans (loans without collateral) because of their credit score vouchers for their ability to pay back the loan. Florida title loans can lend you money without the "security" of a high credit score by using the collateral of your vehicle title instead. We sign onto your vehicle title as the lienholder which gives us legal rights to your vehicle even though the title is still under your name. However, you get to keep your car throughout the life of the loan; we only keep the title.
Collateral Loans
Collateral loans on vehicles are an easy way for you to get the money you need today. We will use your title as collateral for the title loan. Our car collateral loans are easy to qualify for when you get your auto collateral loan, you get to continue to drive your car, we only hold the title.
Our collateral loans, we will only hold the title and you get to keep your car. Some other collateral loans will take possession of the collateral, but we will only hold the title. Find us in Las Vegas!
Referring back to the question at hand of "what happens" when you get a car title loan, we can explain the whole process to you since it is incredibly simple:
Documents Needed
You will only need to provide a few documents to us so we can approve you as quickly as the next business day. These include:
The original vehicle title showing sole ownership

A government-issued identification matching the name on the title

Some proof of residency matching the name on the title

Your current vehicle registration

Proof of vehicle insurance

Some proof of income or ability to repay the loan

Names and phone numbers of four references

Six pictures of the vehicle from all four sides as well as the VIN plate and the odometer

Paying Off Your Title Loan
You will get funding from us in a quick and way with flexible loan terms that perfectly fit your unique circumstances. You will have scheduled monthly payments to make; however, since there are no prepayment penalties, you can pay down the loan as fast as you like and by doing so avoid some accruement of interest. If you have any struggles along the way, we encourage you to contact us at any point during the life of the loan to express your worries. We can help you through the process. We want to see you succeed. When using your car as collateral for a personal loan, you can get the money you need today and you can pay it off tomorrow with no prepayment penalties.
Get Your Title Back
After you have fully repaid the loan, we will sign your title to signify that we have officially released the lien we originally placed on the title. We will mail the title back to you or you can pick it up in person if you wish. After receiving your returned title, everything will be back as it was before except you are, hopefully, better off financially than you were before. You can get a loan using a cars equity, and once you have paid it off, your title will be sent to you.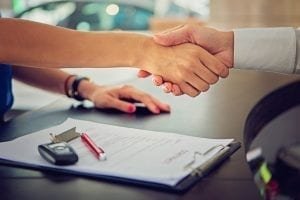 After learning everything you need to know, are you interested in using your car as collateral for a loan? If yes, we are glad to hear it. We have loan agents waiting by the phones with extended business hours who would be happy to answer your questions. If you have decided that you would like to apply for a TFC Title Loan  then get started with our online application or apply over the phone today!