1
Apply Online or Call
Fill out a short inquiry form or call us at 1-844-242-3543 to send in your information.
2
Submit Your Documents
Provide a few basic documents so we can verify your personal data.
3
Get Your Cash!
Upon pre-approval, sign your contract and get your money!
GET YOUR MONEY NOW!
Apply now to get your cash!
Apply Now
Get Title Loans in Los Angeles Today!
Are you facing a financial emergency in Los Angeles, California? Do not worry, we are here to help, we understand that unexpected expenses can happen at any time, and traditional loan applications can be time-consuming and frustrating, our car title loans Los Angeles will get you the money you need.
That is why we offer quick and easy online car title loans in Los Angeles, with our simple application process, you can get the cash you need in no time.
No matter where you are living in in California, we are able to help you to get the money that you need. we have been helping people to use the equity in their vehicles since 1994.
Looking for quick financial assistance in Los Angeles? Apply for title loans today and get the help you need to overcome your temporary setbacks.
 Hassle-Free Los Angeles Title Loan Processing
At TFC Title Loans Los Angeles, we know that things can happen unexpectedly and you might need money quickly.
That is why we make getting a car title loan as easy as possible, whether you want to apply online or apply over the phone, we are here for you.
When you choose us, our friendly staff at our title loan company will guide you through the process and explain everything clearly.
We believe in being open and want you to fully understand the loan before deciding. One of the best things about us is that we work fast, we know that time is important, especially when you need money urgently.
That is why our process is designed to be quick and efficient, once you apply and give us the necessary documents, our team will review and approve your loan as soon as possible.
Same Day Funding With Title Loans in Los Angeles
In most cases, you can get approved and receive your money within 24 hours. We value your time and want to give you the best service possible, our team is here to help with any concerns or questions you have. We know that getting an auto title loan in Los Angeles can be stressful, you can trust us to take care of you.
Do not let money worries bring you down, take advantage of our easy Los Angeles title loan process and get the money you need today.
Apply for a title loan with us and see how simple and efficient our services are. Let us guide you through your financial journey with confidence.
Keeping Your Car With Pink Slip Loans In Los Angeles
Unlike traditional loans, car title loans in California offer a unique advantage – you can keep driving your car while you repay the loan.
We understand that your car is an essential part of your daily life, whether it's for commuting to work, running errands, or simply enjoying a weekend drive. At TFC Title Loans, we do not want to disrupt your routine or inconvenience you in any way.
With our online title loans Los Angeles, you can continue using your vehicle as usual, while you have access to the cash you need. We believe that financial solutions should not come at the expense of your convenience or mobility.
So, whether you need some extra cash to cover unexpected expenses, manage medical bills, or make a necessary purchase, we are here to help. Our auto title loans in Los Angeles allows you to secure the funds you need without sacrificing your ability to get around.
Getting No Credit Check Title Loans Los Angeles
We are here to help everyone, no matter  about their credit history. We understand that life can be tough, and sometimes we all need a little financial assistance. That's why we offer title loans with no credit check required.
It doesn't matter if you have bad credit, good credit or no credit you will get the best title loan. The most important thing is that you own a vehicle with a clear title and no outstanding loans. We are here to make the process simple and quick, so you can get the money you need in your bank account when you need it.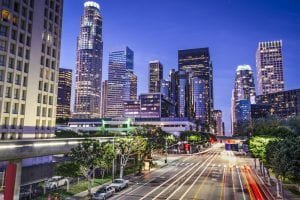 Interest Rates With Los Angeles Title Loans
We know that getting low interest rates is important when it comes to Los Angeles title loans, that's why we offer competitive interest rates on our auto title loans. We strive to provide you with the best possible terms that fit your financial situation. Our flexible repayment options allow you to choose a plan that works for you.
Exceptional Customer Service for Auto Title Loans LA
TFC Title Loans values making our customers happy, our friendly team is ready to assist you throughout the entire LA title loan process. If you have any questions about our title loans or need help with your repayments, we're here for you.
We value our customers and aim to provide excellent customer service that goes above and beyond. We want to build lasting relationships with you and make sure you have a great experience with us. So, feel free to reach out to us anytime you need emergency financial assistance. We are here to help, and our goal is to make you a satisfied customer.
Apply for Title Loans Los Angeles Today
If you need money right away, do not worry, we can help you quickly and easily. You can apply for pink slip loans in Los Angeles with us and get the money you need for emergencies without any delays.
We understand that your situation is important, and we will work hard to process your application quickly. Our goal is to approve and fund your application as fast as possible so you can take care of unexpected expenses without worries. At TFC Title Loans Los Angeles, we believe everyone deserves financial help when they need it most.
Our title loan process is designed to be simple and efficient, so you can focus on solving your financial problems, unlike payday loans that don't get you the loan amount you need. Apply for a title loan in Los Angeles with us, and get the support you need to overcome your temporary setbacks. Our friendly team and loan officer is ready to help you every step of the way.
Looking for quick and reliable financial assistance in Sacramento? Secure the financing you require with title loans in Sacramento today!
<a href="https://www.aurora-directory.com/">Aurora