Car title loans with no credit checks? Are you facing challenges that require urgent financing? Are you tired of the embarrassment that comes with running around for some urgent cash? Can you get a car title loan with no credit checks? These are all good questions.
Car Title Loans with No Credit Checks
If you need fast emergency financing, then getting a loan on your car is a fast way to get money. Car title loans with no credit checks, are not possible from us. We do credit checks because we want to make sure, you can afford the title loan that we give to you.
When you are considering Car Title Loans with No Credit Checks, you need to ask your self, does this lender care if I can pay for this loan.
At TFC Title Loans, when getting an online title loan with no credit checks the risk of repossession goes up. We want to make sure with our title loans, that you can make your monthly payments.
Financial Emergencies
When you find yourself handicapped because of insufficient cash, borrowing some extra money to support your finance becomes an essential tool.
Maybe you are looking to raise some extra cash to support your business, take care of some routine repairs or settle outstanding bills, borrowing becomes the saving option for you. With TFC Title Loans online, you may not need to look much further.
When it comes to borrowing money, there are several options too. You could choose to borrow from a bank, credit union or any other traditional lending institute. However, these other borrowing options pay too much attention to your credit status before you will be qualified to get any cash.
Even if you do eventually end up getting the cash advance from these conventional lenders, it will be at a strangling rate, and most of the time, you will have to repay what you borrowed in a short time.
This is where a no credit check online title loan becomes very useful. If you want to escape the discouraging procedures of traditional loans, then you need to check out the online title loan with no credit checks, but with us, we use your car as your credit.
Car Title Loans with No Credit Checks? Our online title loan package is easily accessible, and it takes less than 24 hours to receive cash. The interesting thing is, you can qualify for this loan even with poor or bad credit. Provided you meet the three primary criteria that qualify you for the loan, you can get a title loan online. These criteria are;
A car that still has some value in it
A clear or salvage title in your name
A regular earning that can finance your repayment.
How Title Loans Work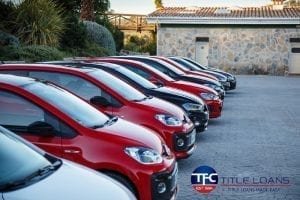 Title loans allow you to get a cash loan based on the value of your car. You will get a certain percentage off your car's value as cash advance, which you will pay back with interest. And as a form of secured loan, you will have to offer collateral (your car title) as an insurance of your commitment to repay the loan amount borrowed.
The way an auto title loan works is quite different from the way loans work generally with conventional banks. Traditional asset-based lenders take possession of the collateral you present, but with a title loan, you will not give up your car. The only thing you surrender is the deed of ownership of your car.
Provided you are comfortable with the title loan contract terms and you sign in agreement, you will receive the emergency loan. And you only get back the title to your car when you pay back the loan completely.
The value of your car determines the amount of cash you get. So when you apply for a car title loan, your car will be appraised, and the loan amount you are entitled will be given to you.
When you collect this money, your car title or pink slip will be withheld with the name of your lender on it as the lienholder. And when you have fully repaid the loan, you will get back your car title lien free.
With TFC Title Loans, the whole process of applying for and getting a title loan can be done online. Making our online title loan –
Easy
Fast
Convenient
We can get you a title loan in one business day, and the application process will take you just a couple of minutes to complete. We provide you with a no credit check online car title loan in California, Florida, Texas, New Mexico and any other state of America you may reside in.
For more info on title loans, please visit: https://en.wikipedia.org/wiki/Title_loan
Credit Checks
We do credit checks to get you the best deal so that you will not face any difficulty in terms of making the loan payments. The check only gives us an idea of what payment plan will suit your specific financial situation, saving you the risk of defaulting and getting your car repossessed.
While you stand almost no chance of getting a loan from your bank because of bad credit, TFC Title Loans can give you a bad credit online car title loan with no credit check. But we will run a quick credit check using Experian to establish your credibility and repayment strength. The credit check is not mandatory; it is just necessary.
This is why anybody can qualify for our no credit check online title loan, whether you are unemployed or have no credit at all. Provided your income source can support the loan payment, you can get our car title loan.
We wouldn't want to set you up for default or leave you stranded in a cycle of debts. So as responsible lenders, even if we don't pay attention to your credit, we still get you funded based on what value is in your car, and we also check your credit to reach a loan sum and payment amount that will best suit your financial plans. We leave you in a better financial position than you were when you approached us.
How to Get Car Title Loans with No Credit Checks?
To get a completely online title loan with TFC Title Loans, you just have to apply online by visiting our website to access the online application form. You can be sure of getting funded on the same day you apply. Be sure to check the value in your vehicle so you can use it for an online equity loan.
It takes three simple steps to get an online car title loan with us;
Our online application is simple and easy to fill, and in about five minutes or so, you are done with the entire application process.
In the application form, we will require that you provide us with your name, contact detail and some basic information of the car or vehicle against which you are getting the loan. You can also find out online how much you qualify for with our title loan calculator.
Having applied and satisfied with the loan amount you are eligible to access, we will process your request and get you approved to collect the loan. One of our title loan officers will reach you almost immediately you hit the 'SUBMIT' button to guide you through the approval process and up to the moment you collect your cash.
After your car title loan approval, you will be directed by our title loan professionals to present some documents as requirements for the loan. At the end of the documentation process, you'll have to sign the loan terms of the agreement, and then collect your cash.
Requirements for Getting a No Credit Check Online Title Loan
Here are the things you will need to get an online auto title loan with TFC Title Loans;
A valid government-issued ID card to verify your age and some other details
Insurance coverage
Proof of residency
Proof of monthly income (a bank statement or your pay stub will satisfy this requirement)
Car Title Loans with No Credit Checks
Pictures of your car or vehicle and odometer
A couple of references
 Car Inspection
The vehicle inspection process is also a requirement for getting an online auto title loan. Since the online title loan is based on your car's current worth, the inspection process will help us determine the value of your car and how much loan amount you will get off its value.
Though some auto title loan lenders offer title loans with no car inspection as a way to speed up their title loan process, you could end up getting less than what you truly deserve with such lenders. When you get our 100% online title loan, we will check your car for additional features, which could qualify you for even more cash.
You will agree on a date that is most convenient for you for the inspection, and you will be required to come along with your car to any of our title loan locations near you. Let's learn more about Car Title Loans with No Credit Checks!
TFC Title Loan inspection allows you get the accurate loan amount you are eligible to get, that is, the maximum amount of your car's value.
The vehicle inspection will also check for any visible damage on the car, like; scratches, broken glass, scraps or broken lights. The inspection will also examine the interior of the car for any valuable modification. All these details will guide us to come up with a more accurate loan amount for you.
TFC Title Loans
If the need is critical and urgent, TFC Title Loans can give you an emergency cash loan in 24 hours. Pawning your car title online for a title loan is exactly what you need if you happen to have bad credit. You may even qualify to refinance your current loan with us. With our instant title loan, there is;
No stressful application process,
No unnecessary documentation, and
Car Title Loans with No Credit Checks
You still retain your collateral – your car
Come to us, apply for our online no credit check title loan, and find out how much you are eligible to collect with our title loan calculator. Once you agree to our terms, which are mild and flexible, you will get the cash advance.
We don't just offer online loans on cars and vehicles only. A recreational van, big rig, truck, and even a motorcycle can qualify.
Our customer services are the best. It is our concern that you get the quick cash support you desire, and that you get this cash assistance as fast as possible.
Reach us today at our TFC Title Loan Office near you with your car and car title to get funded instantly.
No prepayment penalty
24 to 36 months loan payment period
Experienced team of title loan professionals
Convenient monthly payment plan
Cheaper rates
With us, you are encouraged to pay more each month so that you can complete the loan payments earlier. Once you are financially buoyant to clear off the loan, you can do so any time, and we won't penalize you for that.
Conclusion
Now you know more about car title loans with no credit checks! Our ultimate goal is to get you a fast, easy and the best credit check or bad credit online title loan wherever you are. Remember, with us your car is your credit.
Learn more at https://www.huffpost.com/entry/6-tips-to-getting-the-bes_b_11543618
What is a Car Title Loan?
An auto title loan is a loan for a small amount of cash for a short period of time. When you get a car title loan, you give the auto lender the title to your car until the loan is paid in full.
Is a Title Good for Emergency Funds?
Title loans are great for making money in a hurry because you get money quickly and keep your car. No company can match TFC Title Loans when it comes to low interest rate fast cash for any situation.
Are Car Title Loans And Home Title Loans Similar?
Yes, both title loans are given based on the value of the owned property.