Rich Dad Poor Dad Review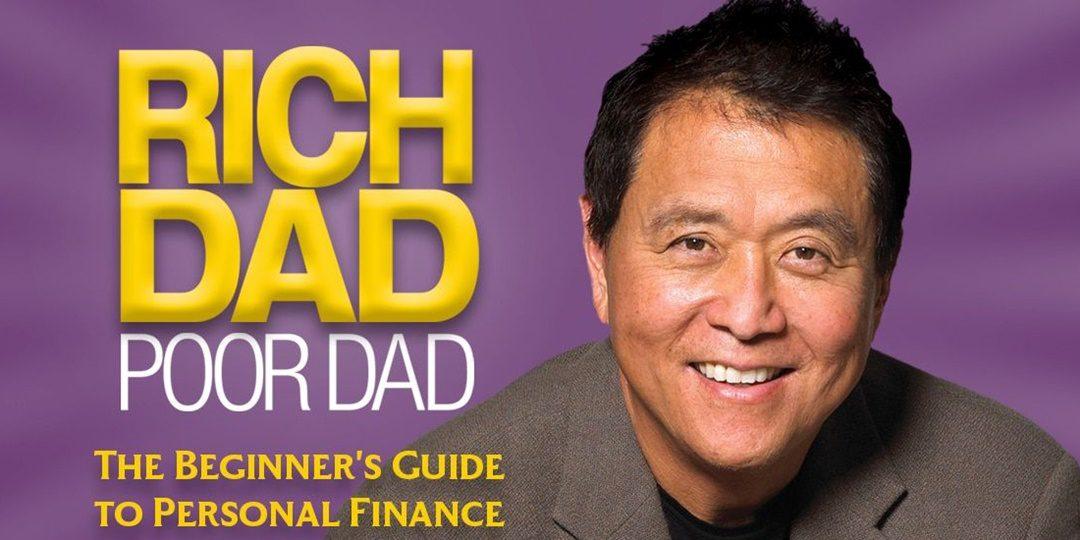 Here is a book review on Rich Dad Poor Dad, this is a great book for financial education, in the book the author Kiyosaki talks about his experience of a rich dad and a poor dad, they each had different views of life and money.
In the book, it will tell you how the rich think about money, and how the poor or middle class think about money, rich people see money as a tool to maker more money, whereas poor or middle-class people see money to buy things.
Financial education is what the book will teach, and financial freedom will give you freedom and wealth, this book has sold millions of copies, and is a must-read.
Rich Dad Poor Dada Big Ideas
The poor and the middle-class work for money. The rich have money working for them.
It's not how much money you make, it is how much money you keep.
Rich people acquire assets, poor people and the middle class acquire liabilities but they think that they are assets.
Financial aptitude is what you do with your money once you have made it, how you keep people from taking your money from you, and how you make your money work hard for you.
The single most powerful asset you have is you.
Rich Dad Poor Dad Lessons
 The Rich Don't Work for Money
 Why Teach Financial Literacy?
 Mind Your Own Business
 The History of Taxes and The Power of Corporations
 The Rich Invent Money
 Work to Learn—Don't Work for Money
After you read this book, you will never see money the same way, you need to change your mindset, and how we have all been trained to look at money.
Here are the important takeaways from the book:
Be Brave

You need to be brave, do not be afraid, and go against how we have all been taught in our schools, we are tought in school to work for money,  the education system is built on producing a workforce for companies.

The sytem is designed to keep you in the rat race, and not question the system, htis book tells you what you need to do, but you must be brave.
 Make Money Work For You
The book tells you that you need to make your money work for you, and not the other way around, buying businesses that run by themselves, buying real estate and collecting the rent, buying stocks, bonds, or a business, that does not require you to run it.
Poor people stay poor by spending all of their money, living paycheck to paycheck, the middle class stays in the middle class by saving all of their money, and the rich get richer by making their money work for them.
The rich know that money in your savings account is only used to create more money, and not to pay bills, the investor's first question should be how fast will I earn my money back.
Financial Literacy
The book will tell you that it is not how much money that you make, but it is how much money that you keep. Keeping your money is very hard to do without financial literacy.
Without financial literacy, there is no money, there have been plenty of rich people who have made their money and lost it because they did not have their money working for them.
Making money and keeping your money are two different things, so it is important not to confuse the two, with financial literacy comes great responsibility. With financial literacy, you will realize that half of your expenses are just useless liabilities.
 Mind Your Business
Starting your own business is what the book focuses on, the book focuses on building your asset column instead of your income column.
Once you have money going into your assets column, never let it come out. When you have a chance to buy more assets, get them, build up your assets.
Do not reward yourself with buying luxury items with your hard-earned money, buy more assets to make your money work even harder for you. Then you can buy assets to generate income, and then you can buy luxury items.
Buying stocks can be your business, buy more when you can, attain real estate, or bonds, simply focus on appreciating assets, not depreciating assets. Small stocks and bonds can turn into big things over time.
Set Up Corporations
Setting up corporations is the biggest secret of the rich, it is a way to avoid paying unnecessary taxes, the tax rate is lower than the individual tax rate.
A corporation earns and spends everything it can, and is taxed on anything that is left. It's one of the biggest legal tax loopholes that the rich use to their advantage, buying assets, allows them to use their money, and not pay any tax.
Having a corporation there are more expenses that can be written off as business expenses with using pre-tax dollars. Without having a corporation the harder you work the more money you will pay the government.
Your corporation can pay for your vehicles, and many expenses, that otherwise you would be taxed on.
You Are Your Best Asset
Changing the way that you think, and seeing opportunities are what the rich do. The rich look to make millions, with the poor worrying about getting a pay raise. The rich are taught to have a higher financial IQ, they look for opportunities.
Look for opportunities, change the way you think, do not cling to your old ideas, they will keep you poor. Opportunities are seen with your mind, you have to use them.
Your old ideas are just liabilities, you need to look for asset opportunities, invest in yourself, and look for your opportunities.
Know A Little About A Lot
The rich dad believed in knowing a little about a lot, but schools teach their students to be experts in certain fields, they teach you to specialize in one topic, so that you can stay in your job for a lifetime. That system is designed for you to work hard, earn a paycheck, get a promotion, and earn little money.
For rich people, it is good to know a little about a lot of things, learning about different opportunities is how rich people can build long-term wealth. educated people fail financially, as they believe the job is everything.
Do not get stuck in one field, learn about multiple fields, to see more opportunities.
 Skills That You Will Need
Communication skills are important, you need to be able to communicate with your writing, speaking and your negotiating, continuously work on your communication skills.
Learn to be great at selling and marketing, if you do not have these skills it is difficult to become the success that you deserve.
You will also need to know how to manage cash flow, how to manage systems, and lear management systems, so no matter what field you go into, you will be able to operate or have the knowledge on how things are run.
Obstacles Of Fear
Poor people are afraid to take risks, but rich people are always willing to take more risks, they understand that with every opportunity there are risks involved.
No one ever likes to loos money, and there are plenty of rich people that have lost money. There are also plenty of poor people who have never lost a penny.
The main reasons why the poor stay poor and that they have fear trying something new, they are afraid of cynicism, they could be lazy, they have built up many bad habits, or they are too arrogant or not brave to try something new.
Lessons
Do not be afraid to start something new, everyone has to start somewhere, start small, and then you can grow your business in to something big.
Think big, have big dreams and strive to achieve them. You can achieve great things, some dreams can be scary but go for them.
Be open-minded, look into new ideas, close-minded people are after job security, not about becoming wealthy. Read plenty of books and articles, talk to people in other industries, look for opportunities.
Do not be stuck in the same job, and do the same job until you retire, assess yourself, and assess what you are doing and look for other opportunities.
Major Points In The Book
The book Rich Dad Poor Dad states that you do not have to earn a high income to be rich, between his rich dad and his poor dad, thought the author Robert Kiyosaki on how he thought about money and investing.
He learned that rich people make their money work for them, and poor people work for their money.
It is not how much money that you earn, it is how much money that you keep, not giving your money to the government.
Poor people acquire liabilities and they think they are assets, while the rich people acquire assets.
What do you do once you have made your money, how do you keep people from taking it, how to make your money work for you and how to make it grow.
Rich Dad Poor Dad Tips Form The Book
your should keep your daytime job, but start buying real assets, and not liabilities, the author Kiyosaki says to mind your own business, this means you should keep your eye on your asset column.
If you have income-producing assets, the best thing is that the assets work twenty-four hours a day, and they will continue to work for generations.
The difference about rich people, they will buy the luxury item last, whereas the middle class or poor people will buy the luxury item first, real luxury is the reward in having a real income-producing asset.
When you work for your money, you give them the power to your employer, if your money is working for you, you have the power.
The rich do not work for money.
Lear financial literacy.
Mind your own business.
Taxes and corporations.
Learn to work, do not work for money.
Conclusion About Rich Dad Poor Dad
Your mindset is the most important asset that you have, and you have to use it, being broke is temporary, being poor is eternal. Money can come and money can go, but if you know how money works, you have the power to build your own wealth.
Do not be afraid to make money and to be a success, your financial intelligence will solve your problems and produce money. learning the difference between a liability and an asset is important.
Remember an asset will put money in your pocket, and liability will take money out of your pocket.
The book Rich Dad Poor Dad will teach you about financial literacy, this should be thought in all schools, it would prepare everyone how to make money, cash flow tells the story of how a person handles money, do your self a favor and read the book, it can change your life if you allow it to.
This article was brought to you by TFC Title Loans, we have the largest nationwide network of partners, and we will get you the local title loan that you are looking for.